Put More In…Get More Kid Out! ​The Madison Area YMCA to Celebrate Healthy Kids Day® on April 25
April 10, 2015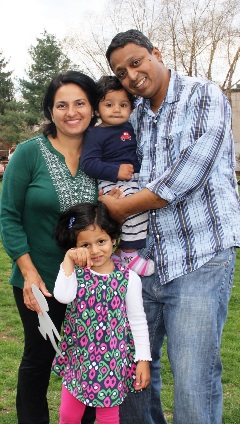 For more information contact:
Madison Area YMCA
Marketing & Communications Department
973.822-9622 ext. 2241
CAPTION: Sachin and Neelma Mandal of Morristown enjoy last year's Healthy Kids Day with their children Karin, 2, and Sonya, 5.
For Immediate Release through April 26
Put More In…Get More Kid Out!
The Madison Area YMCA to Celebrate Healthy Kids Day® on April 25
(Madison, NJ) April 10, 2015 –The community is invited to come out and celebrate the Madison Area YMCA's Healthy Kids Day®, the Y's national initiative to improve families' health and well-being, on Saturday, April 25, from 1 p.m. to 3 p.m. on the fields and in the parking lot of the Madison Area YMCA on Kings Road in Madison.
This year's theme "Put More In…Get More Kid Out!" will inspire kids and families to do more this summer to stay active. There's something for everyone! Activities include kids' races, a performance by a hip hop troop, Zumba dance party, bounce house, arts and crafts, GAGA (dodgeball), an obstacle course, raffles, giveaways and face painting. The Morris County Police Department is bringing McGruff the Crime Dog.
As part of the Y's commitment to addressing critical gaps in health and education, the Madison Area YMCA is encouraging kids to stay physically and intellectually active during the summer. Helping bring families and kids together to have fun, be active, learn more and create lasting, healthy habits for the entire family, Healthy Kids Day is just one more way the Y works to strengthen community.
Summer is the time for kids to get up, get out and grow; but, for some kids, exposure to activities that stimulate the body and mind ends with the school year. YMCA's Healthy Kids Day, celebrated at more than 1,300 Ys across the country, aims to get more kids moving and learning, so they can keep up the habit all summer long – a critical out-of-school time for kids' health. Research shows that without access to out-of-school physical and learning activities, kids fall behind academically. According to the American Journal of Health, kids also gain weight two to three times faster during the summer months.
The Y is also kicking off the 'Hop the Gap' campaign starting on Healthy Kids Day that will run through August. 'Hop the Gap' addresses complex issues that impact youth. Hopping activities will take place throughout the day to signify how the Y helps young people overcome barriers to achieve more.
Volunteers are needed to assist with event set-up, various activities, food/giveaways distribution and event clean up. To sign up, contact Melissa DeSalvo, x2248 or mdesalvo@madisonymca.org
For more information about Healthy Kids Day, please contact healthykids@madisonymca.org or call Madison Area YMCA Associate Health & Fitness Director Jennifer Casanova at 973-822-9622 x2281.
###