The F.M. Kirby Children's Center of the Madison Area YMCA Receive A Special Gift from the Rotary Club of Madison
February 20, 2019
For more information contact:
Madison Area YMCA Marketing & Communications Email: smcevoy@madisonymca.org
For Immediate Release
The F.M. Kirby Children's Center of the Madison Area YMCA Receive A Special Gift from the Rotary Club of Madison
(Madison, NJ)February 20, 2019—The students at the F.M. Kirby Children's Center of the Madison Area YMCA received a special gift from the Rotary Club of Madison. Little Bit of Kirby Preschool students were presented with a box of crayons and "Andy and Elmer's Apple Dumpling Adventure" coloring and activity book from July DeGennaro of the Rotary Club of Madison. This book introduces the "Rotary Four-Way Test" which reminds everyone to care for and about others. The Four-Way Test asks: 1. Is it the truth? 2. Is it fair to all concerned? 3. Will it build goodwill and better friendships? 4. Will it be beneficial to others.
Pictured are Kirby students enjoying reading, coloring and learning from these books! Top Row (L-R): John Duffy-Cossolini , 4, of Madison; Sara Turano, 4, of Madison; Gabriel Clemente, 4, of Morristown; Sivan Vaknine, 4, of Madison; Isaac Cooper, 3, of Florham Park and Henri Bouvart, 3, of Madison. Bottom row (L-R): Vera Ponce-Ratner, 5, of Madison; Ewan Stone, 4, of New Vernon; Emily Dodge, 4, of Chatham and Damon Grosse, 4, of Madison.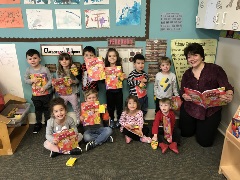 For more information about the F.M. Kirby Children's Center, please call at 973-377-4945.
The F.M. Kirby Children's Center of the Madison Area YMCA is one of the largest early childhood development centers and provides exceptional quality in child care and curriculum-based early childhood education for infants, toddlers, preschoolers, Young 5 students and kindergartners. As a former elementary school, the Kirby Center facility is specifically designed for children. Located on almost 3-acres of property, the Center has a full-size gym, full kitchen that serves snacks and meals, a pediatric registered nurse on staff and five state-of-the-art playgrounds to serve all age groups.
The F.M. Children's Kirby Center is a member of the New Jersey YMCA State Alliance, a participating partner in the Horizon Foundation for New Jersey initiative to implement school-based food, nutrition and physical education programs and is also a flagship center for the Healthy U program which teaches preschool children the importance of physical activity and healthful nutrition. Financial assistance may be available for eligible families.
As a cause-driven charitable organization, the Madison Area YMCA is dedicated to nurturing the potential of every child and teen, and improving the community's health and well-being and giving back by providing support to our neighbors.
###